Memorandum of understanding (MoU) was inked between Apex Professional University (APU) represented by Mr. V. S. Moray, Registrar with Life Science Sector Skill Development Council (LSSSDC), represented by Mr. Ranjit Madan, Director, working under the patronage of National Skill Development Corporation recently.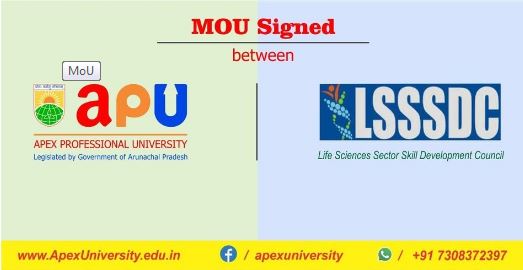 The motive behind the memorandum of understanding is to nurture working in a logical fashion in areas like Contract research, Bio-pharmaceutical and medicine segments. LSSSDC will take the core responsibility of arming the APU with skill enrichment techniques. According to Mr. V.S. Moray, "These bilateral MoU will stress on continued cooperation in carrying out un-interrupted information sharing."
Both the organizations are interested in communicating on a regular basis, by meeting formally once in six months. According to Mr. Ranjit Madan, "It is the supreme platform launched in order to offer higher end services in molecular biology, molecular genetics, cell biology, plant-microbe interactions and other segments."
APU reviews and apprises the team members, senior managers, research teams regarding the progress of the memorandum. Both the organizations decided to share the information relating to life science in the near future.
For more details about APU, visit: http://www.apexuniversity.edu.in